One of the key things when engaging in social channels is to listening to what is being said about your brand and products. There are two main reasons for this:
1. You will find out what people really think about you and your products, and if your desired profile is in line with peoples' perception of your brand
2. You will learn what drives conversation in your business and what makes people engage in brands and products
The first point is essential since it will tell you if your company profile is in line with what people actually think about you. If it's not you will need to change, and now you have a perfect way to find out what to change (you have the largest, most authentic focus group at your disposal).
The second point is essential since it will tell you how to act in social channels to build engagement. Here I'm not talking about creating fun and provocative advertising to evoke responses or viral spread of content, though this could be part of the package. I am talking about building real long lasting engagement. This entails creating content that brings real value to your main audience.
A good example of this is Borders Media, which is the digital extension of the Borders book store. Borders realized that the book business is more than just selling books. People are interested in authors and what they say about their work. Thus, Borders created a media channel where they post interesting content for book lovers, such as interviews with trending authors, concerts at local stores etc. By doing this Borders managed to connect with their audience in much deeper way when before (when just selling books).
There are numerous of tools to use for listening. One of the best free tools is Netvibes. Netvibes is a keyword based tool that you can use to build your own intelligence center. Just do a search on the main platforms and subscribe to the service by RSS. You can also use one of the free readers, such as iGoogle or Google reader (do the same as for Netvibes when subscribing to the RSS).
When it comes to tools where you have to pay a fee I can recommend the Swedish tool Silverbakk. It's also a key word based tool that is really easy to use and have a great interface that displays the information in different formats. Another great thing is that you can choose local languages sources.
When you have your intelligence center in place, you can start collecting and analyzing the information and start build your content in relevant channels. Keep at it and measure the response on what you post. Use engagement metrics like, # of retweets/ tweet, # of comments/ blog post etc to constantly refine you content until you find a format that makes people engage. You can use the URL shortener Bitly to measure the effect of your tweets, Facebook posts, blog posts etc, or you can use tools like the eminent Chart Beat.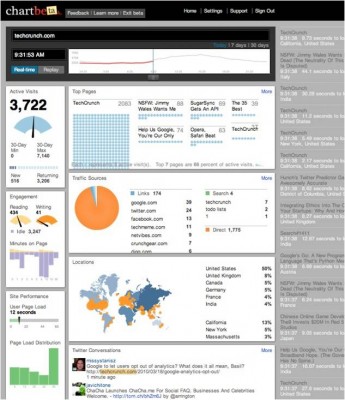 When you begin to reach your engagement goals, it is time to start monetize the engagement you have created & that is the topic of my next post!